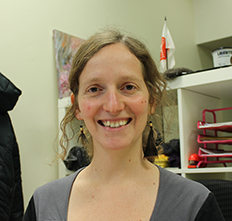 Community worker
Given that developing community life and citizen participation is my main goal, it is an excellent challenge to step into this context of cultural and socio-economic diversity in a neighbourhood that is so full of potential. My contact with residents and my collaboration with community organizations make my work rich and stimulating.
Education: psychology, community organization (social service), some graphic design.
Work experience: ecology and urban agriculture, advocacy, food security, cooperative decision-making, language teaching.
Contact : This email address is being protected from spambots. You need JavaScript enabled to view it.