Le
projet
Stage
Bourgogne
est
lancé!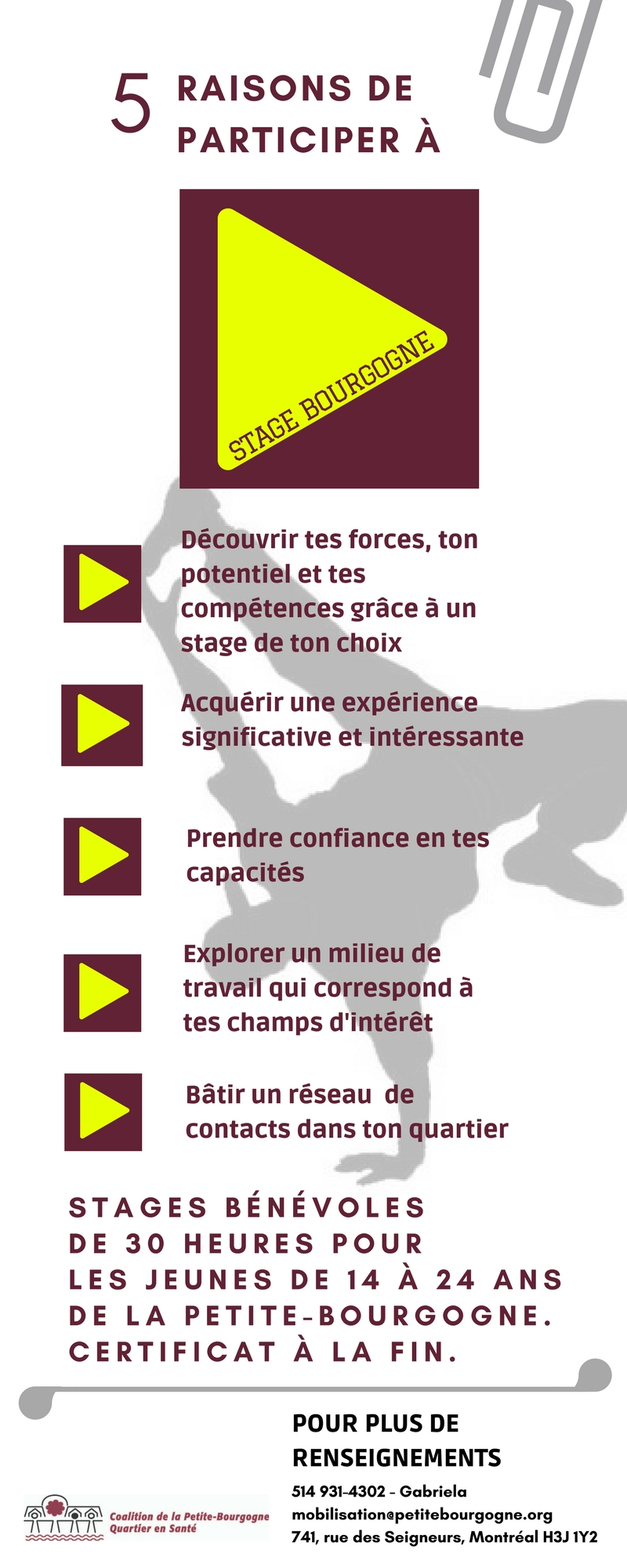 Le projet Stage Bourgogne permet à des jeunes de la Petite-Bourgogne âgés de 14 à 24 ans de vivre une expérience de stage afin d'enrichir leur bagage en employabilité.
Ce projet vise également à encourager l'embauche locale des jeunes dans les entreprises du quartier en faisant connaître le certificat Stage Bourgogne auprès des employeurs potentiels et en créant des partenariats avec eux.
Cette initiative vise aussi une participation active des jeunes dans leur milieu et un plus grand sentiment d'appartenance au quartier. Par le biais d'un stage, les jeunes s'impliqueront dans un organisme ou une entreprise du milieu et découvriront les possibilités d'implication locale pour mettre leurs talents au service de leur communauté.
Pour toutes questions, contactez Fanny au (514) 931-4302 / This email address is being protected from spambots. You need JavaScript enabled to view it.
Stage Bourgogne project is launched!
Burgundy Internship project will enable young people from Little Burgundy aged 14 to 24 years to have an internship experience to enrich their employability skills.
This project aims to encourage the local hiring of young people by neighborhood businesses by making the Burgundy Internship certificate known to potential employers and by creating partnerships with them.
This initiative also aims at an active participation of young people in their community and a greater sense of belonging to the neighbourhood. Through an internship, young people will get involved in a local organization or company and will discover the possibilities of local engagement to put their talents to the service of their community.
For more information, contact Fanny at (514) 931-4302 / This email address is being protected from spambots. You need JavaScript enabled to view it.